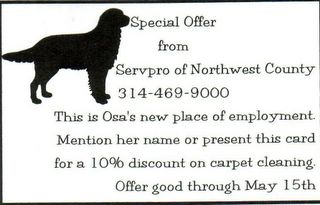 For years I have sent out postcards to everyone who requested to have a
snail mail reminder of where I was,
what I was doing and how they could either reach me,
or listen to me sing & share stories.
The last few years fewer & fewer folk have wanted to come cheer
but they have been quick to call and ask where their postcard was.
I was beginning to experience discouragement.
Lately I have begun the process of changing my life completely.
What a good thing!
People have been calling to ask for favors and they ask if they can just come -
then they will mention the place they think I'll be singing.
OBVIOUSLY
- they haven't
LOOKED
at the post card(s).
Ouch! I could have saved that do-re-mi and used it for something else.
Well, if you live in the Saint Louis Region -
you are invited to take advantage of the "Osa Offer."
This is where my Newfie Mix works part time.
Her boss said she could offer a discount to her "fans."
I don't think I'll send anymore post cards.
They are not cost effective.
Hard Lesson.
Hi-De-Ho!
Postcards